–
Le Grand Bal de Barbara
–
From 7 to 9 September 2023, Barbara and her two companions, Félix and Giacomo, will be back in the heart of the town of Esch-sur-Alzette in Luxembourg, to celebrate the metamorphosis of the town and its inhabitants with a Grand Bal!
The La Machine company and Pierre De Mecquenem's team are returning to Esch-sur-Alzette to develop the second phase of Barbara's project, with the common unifying element of storytelling in the Esch region. La Nuit de la Culture, in partnership with La Compagnie la Machine, and the hundreds of participants in the project invite you to a gigantic village festival where folklore and the imaginary blend with the industrial identity of the Terres Rouges region.
The programme for the three days includes an "animal camp" set up on Thursday in the heart of the city, where you can meet up, make things together and enjoy a unique experience based around the project. On Friday, the three giant puppets will then invite the people of Esch and beyond to light up the rue de l'Alzette together in a "Grande Parade" with a magical, fiery atmosphere all the way to "Barbara's Village", where the festivities will last until Saturday evening: A fair, puppet shows, play areas, music, cookery workshops, concerts, a dance floor under the stars and a fair worthy of the best popular festivals – that's what's in store for spectators on a day full of colour … and human warmth! . and a lot of human warmth!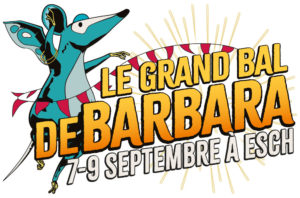 From 7th to 9th of september 2023 – From 10:00 am to 00 h 30 pm – Esch-sur-Alzette, Luxembourg
All pratical informations here +
---