–
Exposition "Dans les Cartons"
–
From 4 February, discover the exhibition "Dans les cartons" in which more than a hundred sketches by François Delaroziere are unveiled inside and outside the Halle de La Machine à Toulouse.
While browsing the exhibition, visitors will discover eight major themes that run through the artist's work, from the animal and plant kingdom to the fairground arts and architecture. Among these sketches, several are at the origin of the great machines known to the general public, such as Grand Éléphant de Nantes, Long Ma, le cheval-dragon, built for Peking or the Dragon de Calais. Other sketches, however, are completely unpublished and have never been presented to the public.  These drawings exist for themselves, outside of spectacular production. They are a sensitive language. A concrete trace of the imagination and the ability of this contemporary artist to make analogies between nature, drawing and mechanics.  A virtuosity that is reminiscent of Leonardo da Vinci's work, which is as plethoric as it is eclectic.
In imagining this exhibition, François Delaroziere wanted to integrate painting machines in order to put the visitor in motion by integrating him into the creative process. Five new machines will thus join the mechanical bestiary of the Halle de La Machine: the painting machine, the catapult, the pointillist, the machine for drawing with the wind and the calligraphy machine. Five machines that will allow visitors to create a work of art, collective or individual, but in any case, unique.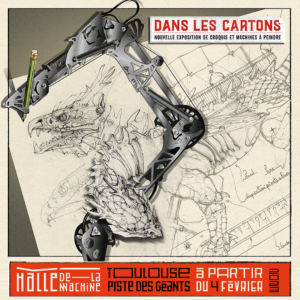 Exhibition from 4 of february to 30 august 2023
Halle de La Machine – Toulouse
More informations : halledelamachine.fr
---